Our Approach to Initiatives and Public Policy
KZCF is on a mission to mobilize people, resources, and expertise to advance racial, social and economic justice. We envision Kalamazoo County as being the most equitable place to live. As we pursue this mission, we understand that programmatic funding from philanthropy cannot undo systemic barriers alone. Policy change in these areas is critical for advancing equity. Policies are considered equitable when they account for the impact of structural and individual racism. The initiatives held by KZCF have policy intersections and inform our advocacy priorities.
Framework for Advancing Equity
KZCF's Initiatives & Public Policy (IPP) work is rooted in the Truth, Racial Healing & Transformation (TRHT) framework created by the W.K. Kellogg Foundation in 2016. TRHT is a community-driven vehicle for change that engages communities, organizations and individuals from multiple sectors across the United States in racial healing and addressing present-day inequities linked to historic and contemporary beliefs in a hierarchy of human value. TRHT is a coordinated, multi-sector effort that focuses on exploring current and past racial realities authentically. TRHT also seeks to implement practices, policies and principles that result in a shared respect for all humanity, evidenced by our patterns of behavior and societal structure.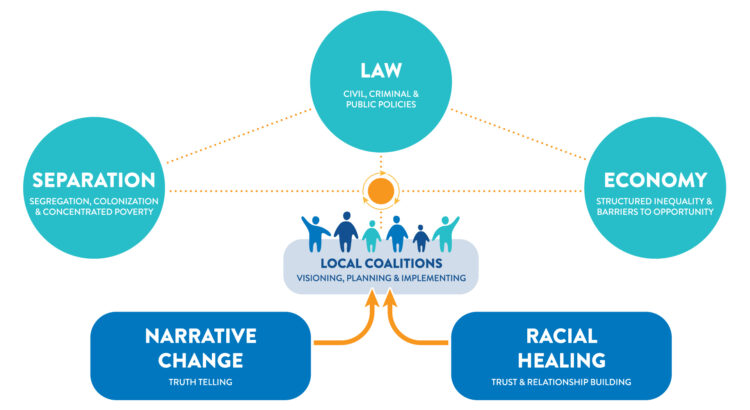 Initiatives
TRHT Kalamazoo
TRHT was adapted for Kalamazoo in 2017 as one of KZCF's initiatives. At the time, TRHT Kalamazoo was one of 10 TRHT sites nationwide. Since then, the work of TRHT Kalamazoo has informed KZCF's mission, vision and framework for the IPP team. Our TRHT Kalamazoo team is comprised of KZCF staff and community partners who are dedicated to the objectives of the TRHT framework.
Kalamazoo Blueprint for Peace
The Kalamazoo Blueprint for Peace was established in 2021 after KZCF was tasked with facilitating community discussions regarding the Kalamazoo County Gun Violence Prevention Plan. The goal of the plan is to stop gun violence and make Kalamazoo County a safer and healthier place for families to live. The Kalamazoo Blueprint for Peace aims to achieve this goal by implementing a long-term strategy that identifies and addresses the root causes of gun violence.
Explore
Learn more about the W.K. Kellogg Foundation's Truth, Racial Healing and Transformation framework.