Our Approach to Grantmaking
Our grantmaking priorities are Equity and Education. We believe in the ability of organizations from all sectors to advance equity in our community.
Systems were created without consideration of many identities and communities in Kalamazoo County. As a result, some groups in our community face extraordinary barriers to the resources needed to live a healthy, safe and prosperous life.
This reality calls out for us to reimagine our work with a deep focus on racial equity and racial justice. Together, we can address the most urgent issues in our community.
To guide our grantmaking, we utilize the tools of Trust-Based Philanthropy, an approach focused on addressing the inherent power imbalance between funders, partners and the community.
Grantmaking Process
Below is an overview of KZCF's grantmaking process. For more information, please review our 2023 Grantmaking Guide. We strongly encourage grant seekers to review the Grantmaking Guide prior to submitting a request.
Submit An Online Grant Request
This is your first step after making sure your request aligns with our eligibility requirements, funding goals and priorities. For more information on how to submit a Grant Request, and to download a Grant Request template, click here.
Note: To be considered for Multi-Year Funding, indicate your interest in the Grant Request. For more information on our Multi-Year Funding priorities, review the Grantmaking Guide.
Your Grant Request Is Reviewed
As we review requests, we consider: our priorities and eligibility requirements, your organization's potential impact in Kalamazoo County, organizational practices and policies, and the details of your request. If we need additional information, a Community Investment Officer will reach out to you.
Grant Decisions Are Communicated
Whether we choose to fully fund, partially fund, or decline to fund your request, we will notify you. If we fund your request, you will receive a grant agreement by email. Once completed, a grant check will be issued.
If you were not awarded funding, you may apply again around the same time the following year. We generally review one request per year from each organization.
Partnership with KZCF
If we fund your request, you can expect the following:
KZCF Liaison: You will work directly with a Community Investment Officer, who will be your primary liaison with KZCF.
Support Beyond the Check: Through our partnership, we hope to offer support to your organization. Your liaison is available to offer thought partnership, share resources that may be relevant to you, and make introductions to other nonprofits and funders.
Grant Reflection Conversations: The majority of KZCF grants are for one year of funding. Towards the end of the grant period, your liaison will reach out to request a Grant Reflection Conversation. This conversation takes the place of a final report, and will be an informal opportunity to discuss successes, challenges, learnings and next steps for your organization.
Pursuing Continued Funding: Except for Multi-Year grant awards, you will be expected to complete a new grant request on an annual basis to be considered for additional funding. We generally review one grant request per year from each organization.
Not sure if your organization is eligible for grant funding?
Review our eligibility and demographic data collection requirements.

Already a KZCF grant recipient?
View your previous grant requests by using the button below or the Grantee Portal at the top of this page to login to your Agency Profile or click here: Go to Grantee Portal.

If you received your first grant in or after 2020, your agency has not been set up with a login. You can reach out to Kari Benjamin Hamann to get set up, or we can send you your previous request(s) in PDF.
Looking for more funding options such as sponsorships and request for proposals?

Visit our More Funding Opportunities page here.

Connect with Sandy Barry-Loken or any member of the Community Impact & Investment Team to learn more about our grantmaking process and priorities.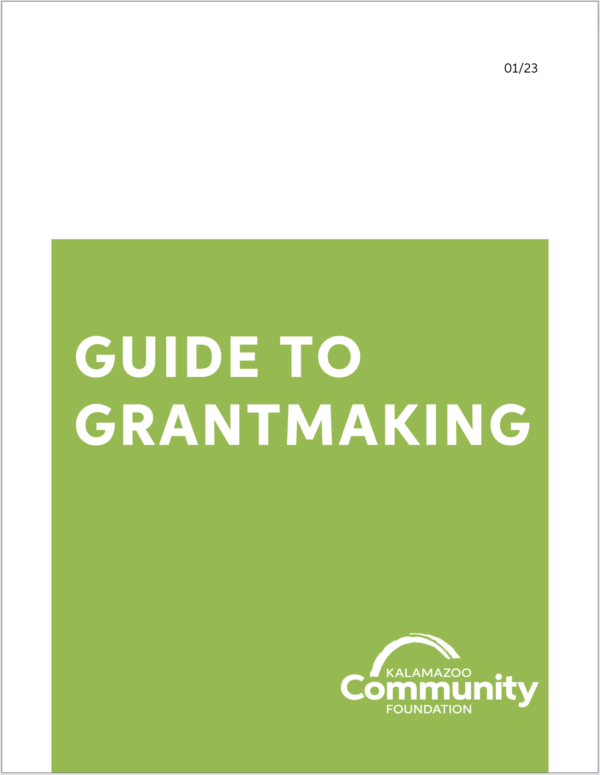 KZCF 2023 Grantmaking Guide